What is the Cloud?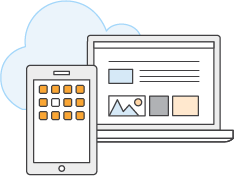 "Cloud Computing" refers to the on-demand delivery of IT resources and applications via the Internet with pay-as-you-go pricing.
Why run your applications on the AWS Cloud with i2m?
---

Reduce TCO

Lower your TCO by paying only for what you use and improving resource optimization.

---

No More Hardware

Quit wasting valuable time procuring, deploying, and managing hardware and instead focus on your core competencies and customer relationships.

---

Same Tools and Capabilities

AWS is compatible with your existing applications, processes, virtual machines, software licenses, and more.
The time to migrate to the cloud is now

Cloud computing provides a simple way to access servers, storage, databases and a broad set of application services over the Internet. AWS allows you to purchase what you need on-demand and does not require minimum commitments or upfront costs.

Click the video to the right to learn more >>
No More Hardware

With AWS you can access the computing resources you need, without any upfront costs or risk of wasted money or restricted capacity. Unlike investing in your own server hardware, AWS does not require minimum commitments or long term contracts—you can downsize or discontinue service if you choose.

See how much you can save by moving from on-premises hardware to AWS >

Same Tools and Capabilities

Whether your goal is to expand your organization's website capabilities, develop and deploy custom applications quickly and efficiently, or build a responsive database structure, AWS provides a familiar environment that can be integrated with your existing resources and processes.

Learn about how you can use your existing virtual machines on AWS >

Because we pride ourselves in being a different type of technology provider, one that is interested in your success above all else. We take our projects personally; your success is our success. We take the time to present solutions in ways you can understand, no techno-babble here. We have a dedicated highly certified and trained engineers that offer an extra-ordinary level of support. Focusing on no-nonsense solutions and rapid execution, i2m is a trusted and reliable partner for companies that lack access to the broad set of resources required to design and implement complete technology solutions. We pride ourselves in efficiency by using automation and deployment tools for management, optimization, and operations to further remove human error, by delivering efficiency and rapid project execution to our clients. Let i2m help guide you through the exciting options that cloud technologies can offer your company. Let us show you how surprisingly affordable a complete, managed and monitored cloud solution from i2m can be.

Contact Us
© 2016, Amazon Web Services, Inc. or its affiliates. All rights reserved.
©2017 i2m
This message produced and distributed by i2m | 151 West Marshall Street Building 5, Norristown, PA, 19401